Whenever I have the budget for food that someone else made, I always go for Japanese. Despite having the sharpest of knives and good quality ingredients on hand, I can never make a nice enough sushi. The rice can be way too soft or worse — the resulting sushi looks like it's been pre-chewed by my toddler. I've long since accepted the fact that I can always make "rustic" food (uneven pie crusts? Ooh, looks something straight out of Food52! With the right filter, that is.) but never sushi. Sushi is life. Sushi is art, man.
So for my birthday, sushi it is!
Since we live a good 2-hours away from Manila, our choice of Japanese restaurants is limited. But my favorite so far is Ippon Yari in Calamba. Their sashimi is always sweet and their sushi all lined up and immaculate. Not a single rice out of place. The waitresses look as immaculate as the sushi – not a single eyebrow out of place. It's like they only make one size uniforms and if it doesn't 't fit, sorry but you don't get to be a waitress there. The ladies are very nice and man, I'd love to be able to squeeze into their uniforms! You know, just to understand what it feels like to have a 24-inch waistline. Ha.
The ambiance is cozy enough and really sets the mood for sushi. Warm lighting, Japanese patrons who drink beer and smoke cigarettes while they watch football and of course, there are low tables with high-backed chairs (without legs, that is). The restaurant is air-conditioned so if that's a factor for you, well, there you go.
What I'm trying to establish here is that my partner and I eat out at establishments that offer food that's hard to recreate – without burning a hole through the ATM card. And yes, Ippon Yari's sushi definitely ticks all the right boxes.
First up, I order everything off the menu. I'm kidding. I can't. But I would if I could. I tried not to order everything off the menu this time around (not sure how many times we've eaten here though). Oh and no sushi platter this time around.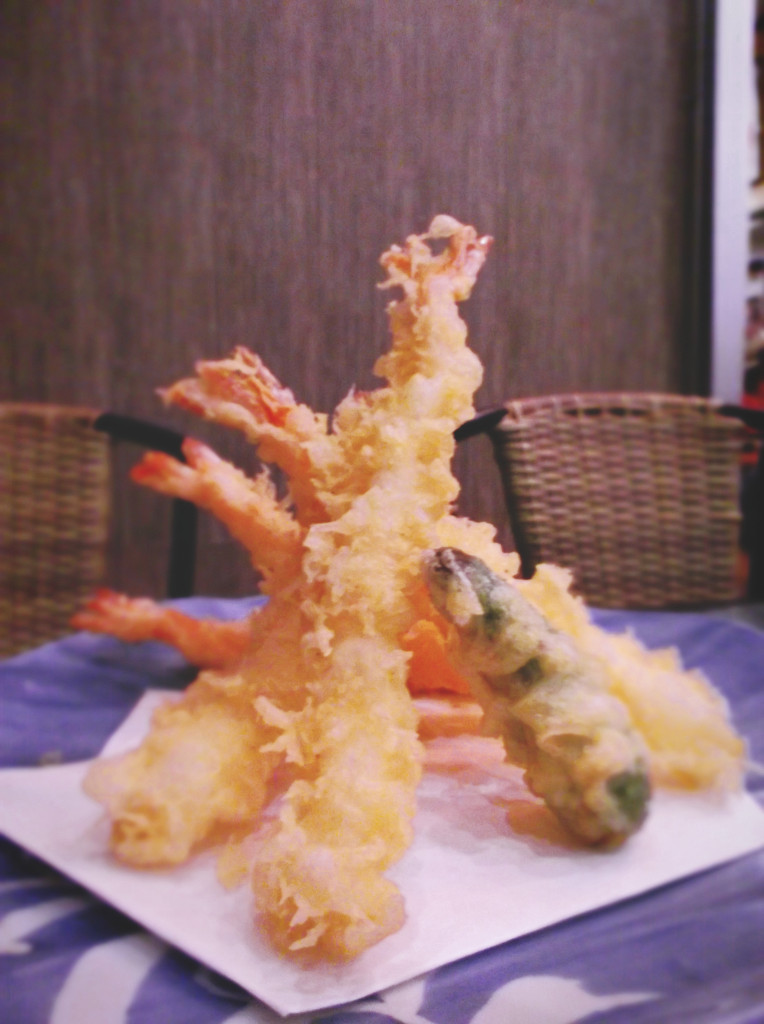 Tempura is something that can be easily recreated at home. But when I go to the market, I always go for the shrimp instead of the prawns. The prawns look enticing but the price per kilo makes my legs feel all wobbly in a bad way.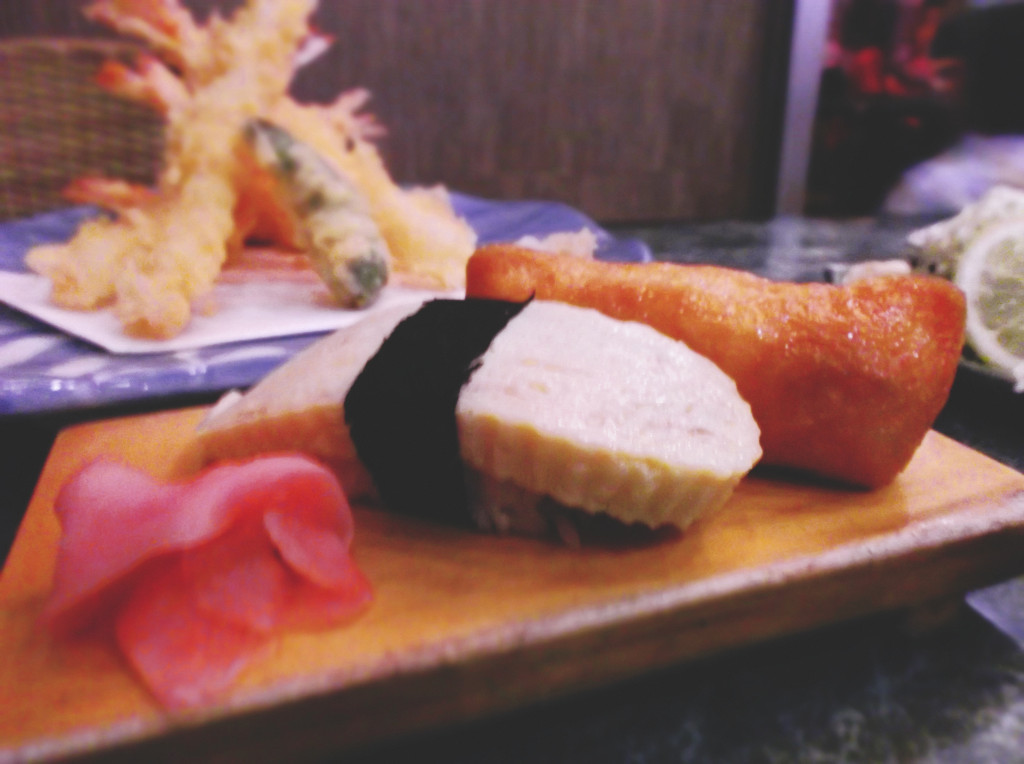 Tamago is another favorite. I tried to make tamago at home but the results just aren't the same. Perhaps it's because I refuse to shell out the money for a tamago pan. And I always chicken out (heh) and use less eggs than the recipe requires.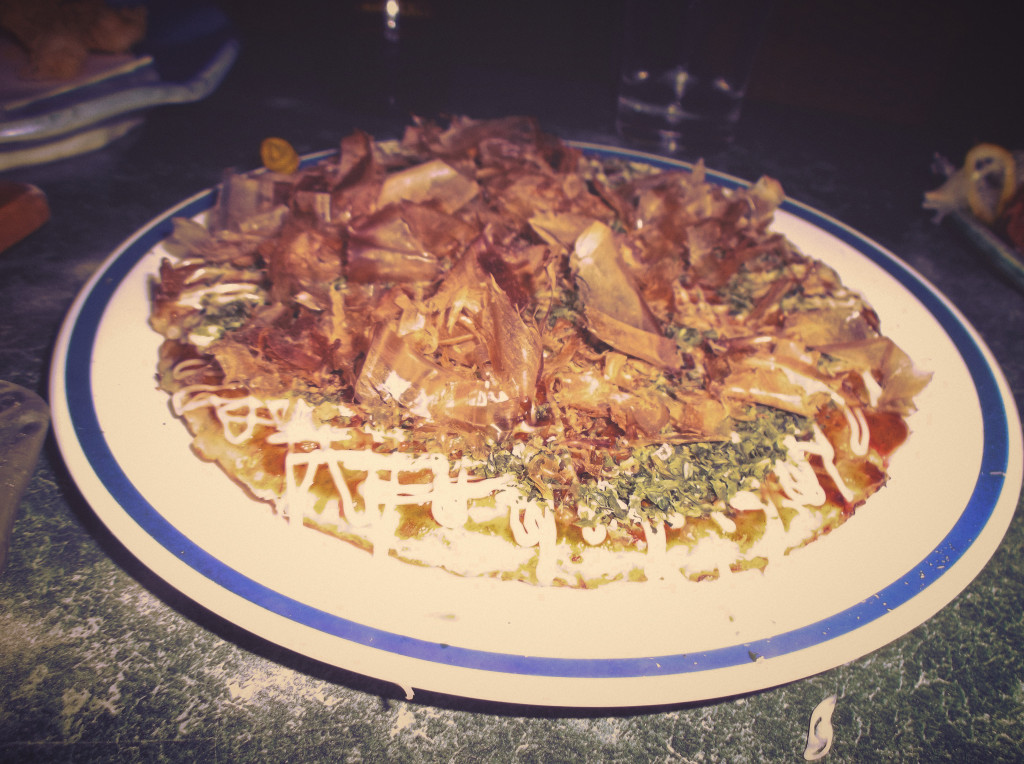 The okonomiyaki was a bit on the dense side but it wasn't too overwhelming. I would have loved it more if it had a tad bit more vegetables and less flour. The Favorite Dining Companion loved that it was heavy on the stomach. I didn't. And if I'm not mistaken, they used a lot of imitation crab sticks instead of actual shrimp. But don't get me wrong, the taste was still spot on.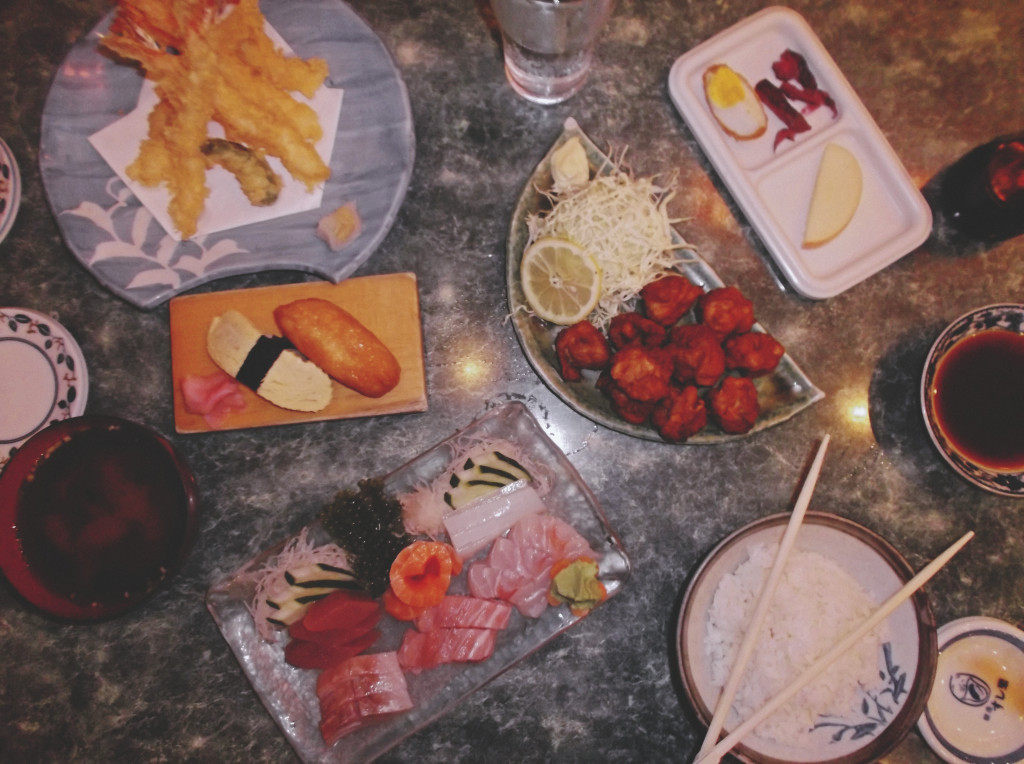 Lastly, I ordered another favorite: inari sushi. I treat it as dessert. It's quite heavy on the stomach and it really set the mood for a nice nap afterwards. Oh and the toddler had chicken karaage. The chicken was succulent and forgive the blasphemy, but, I think I'll choose this over KFC (Korean Fried Chicken) any day.
The lovely waitress also served us free miso soup and sweet potato balls. They serve house tea but remember to specify whether you like it hot or cold. The other waitress mistook our request for house tea as iced tea and we got iced tea on the house 🙁 Good thing the original waitress that was assigned to our table took pity on us and gave us piping hot tea instead. (The Favorite Dining Companion and I aren't fans of iced tea unless we're sure that it's brewed from actual tea. And no, I don't think that's snobbish. Everyone has standards after all!)
I thoroughly enjoyed the birthday dinner and the toddler didn't throw a single tantrum, which was pretty considerate of him. If you want to eat at Ippon Yari, try to do so during Sundays so you get a 10% discount. I think it's good to prepare about 400 – 600 PHP per person.
*Not a sponsored post.