I woke up, rushed to the kitchen, and confirmed that the ants feasted on my precious cheesecake even before I did. The night before, I was too sleepy and couldn't drag myself  to check if the cheesecake was sufficiently cooled enough so it could be stored in the fridge. In short, I got lazy. I should've dragged my lazy bum and stored it in the fridge.
I wasn't even sufficiently roused enough to feel bad about the ants feasting on my cheesecake. So out of drowsiness, I turned the cheesecake upside down onto a plate. It was a lame attempt at getting rid of the ants. Suffice it to say that the cheesecake (which didn't have a chance to solidify in the fridge) cracked in half. It wasn't such a disaster because it was 6 in the morning and since I've stopped breastfeeding, I've eased back into my nocturnal habits. I wasn't even aware of what was happening!
I spied a big box of brownies on top of our fridge and Googled a recipe that'd turn the brownies into cookies. I don't even know WHY I wanted cookies, but I Googled, got a big bowl, dumped the ingredients, mixed on auto pilot mode, and I had a batch of cookies even before my morning dose of caffeine got into my system.
It was so easy, I didn't even need coffee to do it.
However, once I had my cup and realized the cheesecake disaster in front of me, well,  I just whipped up another batch of cookies. Plain chocolate chip ones this time around (using my go-to recipe, then added some slivered almonds). I used pure butter and it did make a lot of difference, looks and taste wise.
Cookie Recipe From Ghirardelli
17 oz. bag (or 2 cups and 2 tablespoons) of brownie mix
1/2 cup butter, softened
1 egg
chocolate chips (I used about half a cup of chocolate chunks and added crushed nuts as well)
Preheat oven to 350°F or 176°C. Place Brownie mix, butter and egg in a large bowl. Mix for about 1 minute if using a mixer, about 2 minutes when using a hand whisk. Add chips and continue to mix on low speed 30 seconds. Drop by rounded tablespoonfuls, 2 inches apart, onto ungreased cookie sheet. Bake 11-13 minutes.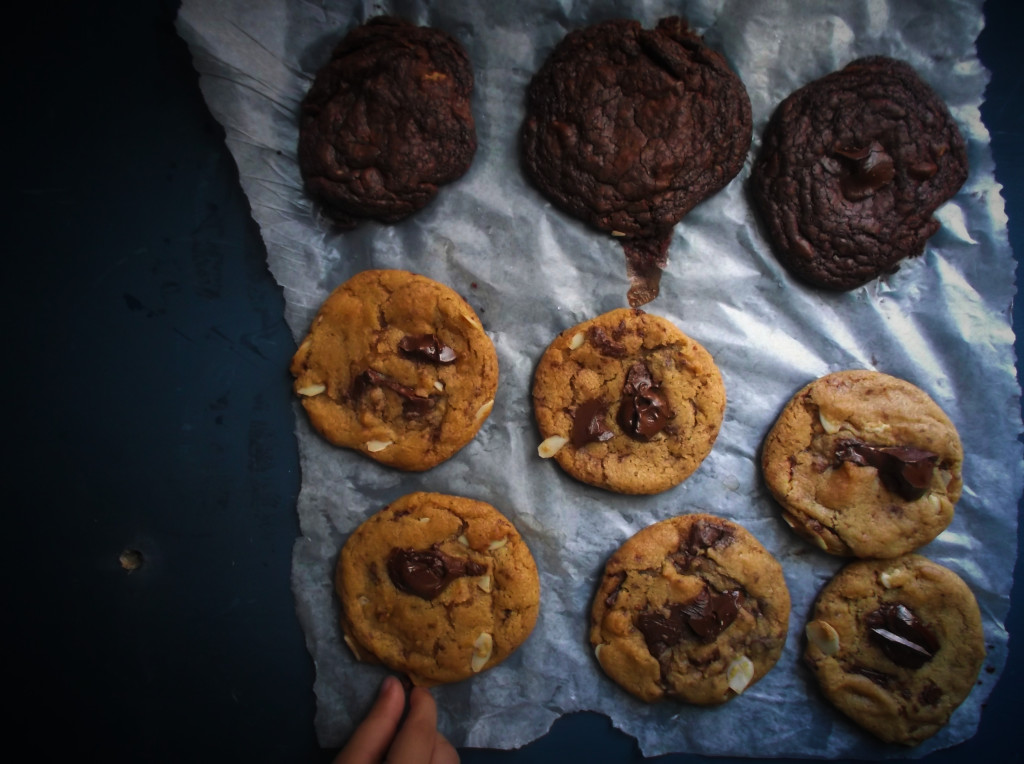 Note:
That cheesecake was supposed to be my contribution for a family gathering. But they ended up loving the cookies so much that I didn't even feel bad about it (cream cheese is more expensive than meat, argh). The Favorite Dining Companion ended up bringing the cheesecake to work (now cut up and drizzled with chocolate ganache to disguise imperfections). He loved it. They all loved it. I had my cheesecake and cookies too. #happilyeverafter