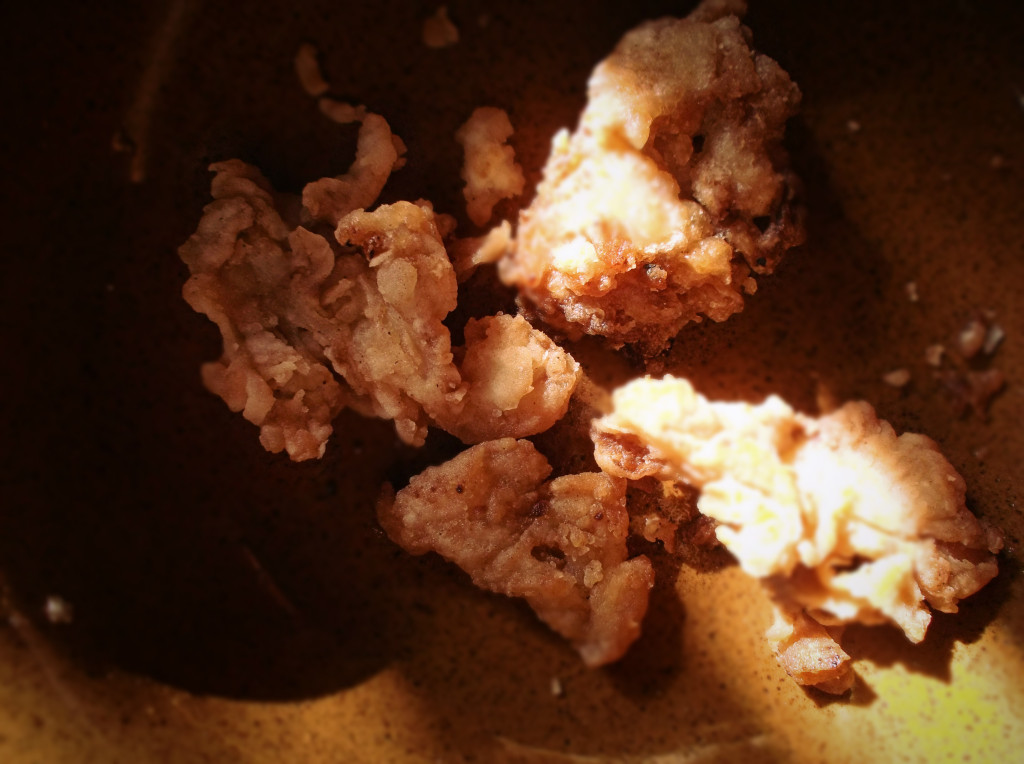 Battered and fried oyster mushrooms used to be a once-a-month treat for the Toddler. You see, I tried out Baby Led Weaning. Baby Led Weaning encourages babies to feed themselves so they learn to explore and eat a variety of food. it also encourages babies to stop feeding themselves once they feel full.
Baby Led Weaning started out okay. The Toddler ate bananas, mangoes, avocado, sweet potato and various leafy greens. He rarely ate rice or meat, but he loved eating fruits and vegetables.
As a plot twist of sorts, the Toddler ended up un-learning everything about Baby Led Weaning. He no longer wants to eat things on his own (he wants to be spoon-fed as much as possible) and he no longer eats fruits and vegetables. Mention "fruits and vegetables" and he'll surely go running out of the room and hate you 'til he forgets that he hates you in the first place (10 minutes tops?).
All he eats nowadays is chicken and rice. He likes steamed, Hainanese-style chicken, poached chicken, and yes, fried chicken (his favorite being Chowking's crispy chicken). In an attempt to get other things in his mouth, I started battering and frying different kinds of vegetables and mushrooms for him. So far, he suspects nothing. He calls all types of battered food "fried chicken". His favorite is this crispy, battered and fried oyster mushroom since it's easy to hold with one, chubby hand while the other is holding his shot glass filled with calamansi juice.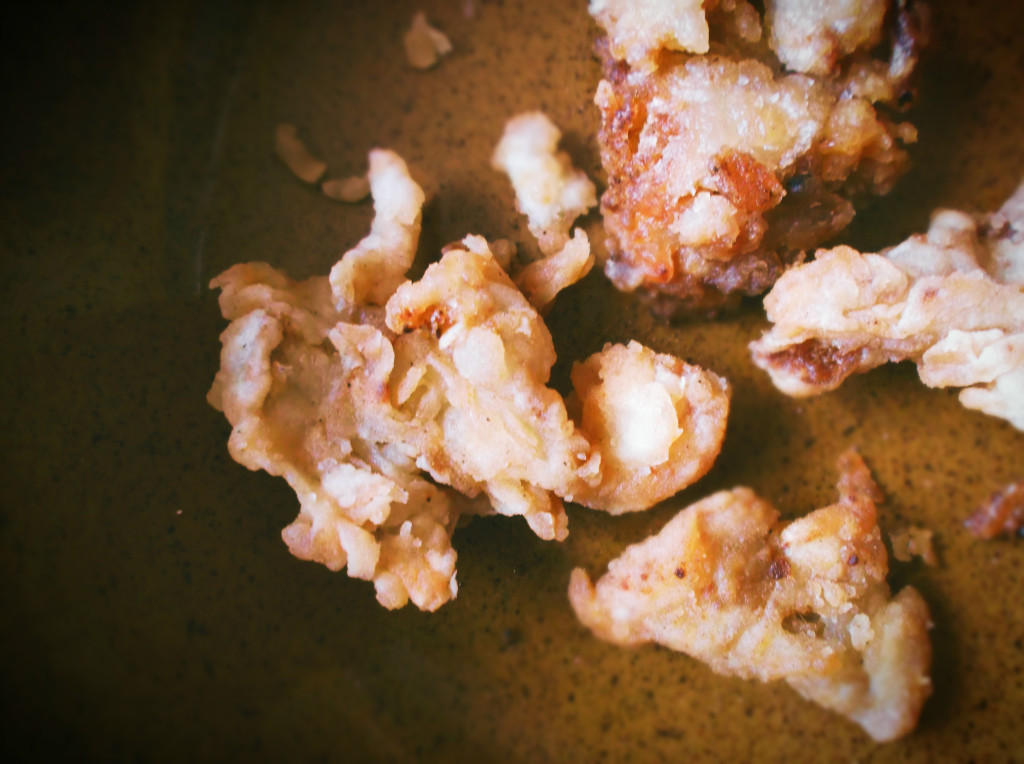 Ingredients
packet of Oyster Mushrooms (whiter, firmer looking ones are ideal)
1/2 cup all purpose flour
1/2 cup rice flour
2 tablespoons cornstarch
1 teaspoon baking powder
pinch of salt
1 large egg
3 tablespoons water
3 cloves of finely chopped garlic (or garlic powder, 1/2 teaspoon)
pinch of salt
Procedure
1. Beat the egg. Add water and garlic. Add salt (and other spices if you want).
2. Tear the larger pieces of oyster mushroom, if there are any. Then dip the mushroom into the egg mixture. Let sit for a few minutes.
3. Combine the flours, starch, baking powder, and salt.
4. Dredge the mushroom bits in flour.
5. Slowly heat about a cup of oil (I use refined coconut oil). When you see a bit of smoke, add in a few battered pieces of mushroom.
6. Fry until golden brown.
If you don't have rice flour on hand, you can use cornstarch instead. I find that rice flour doesn't fry up as crispy as cornstarch. It renders my mushrooms crispy but not too hard. Does that make sense? You can substitute cassava starch or potato starch if you find those in grocery stores. If I find tapioca starch one of these days, I'll use that. In the meantime, I make huge batches of this flour mixture so I don't have to buy heavily seasoned (too salty, the Toddler would say) breading mixes.  Sometimes, I add in cornmeal flour as well (really good! But the toddler eyes the yellow-hued bits with distaste and refuses to eat even a single bite).
I sometimes make a Hoisin sauce dip of sorts. I add mustard powder (pretty cheap. Bought a packet for 20 PHP), bit of honey, vinegar. A nice barbecue sauce-type of dip that also works perfectly with his other faux-fried chicken favorite: tofu "chicken" popcorn. Will share that recipe next time!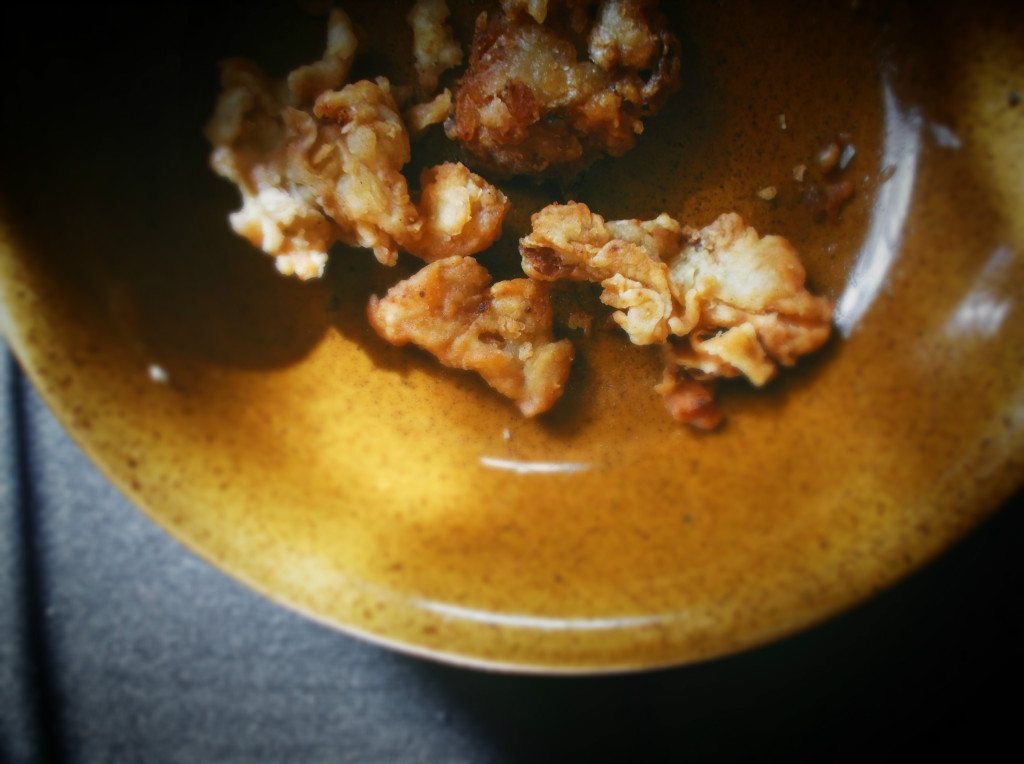 I haven't tried it yet, but I bet these crispy bits of oyster mushrooms would make for a delicious sandwich/burger filling. Kinda like a really crispy chicken burger. Mmmm.