Aside from pancakes, Magnolia's chicken popcorn (with the barbecue dip) was the breakfast option that would spur my 6th grade self to wake up and get dressed immediately. It was so good with garlic fried rice and a runny yolk!
Nowadays, I'm a bit cautious about what I eat (and what I feed the Toddler) so instead of always eating chicken/making chicken popcorn from scratch, I alternate with tofu. And besides, I'm not even sure if they still sell Magnolia chicken popcorn in groceries.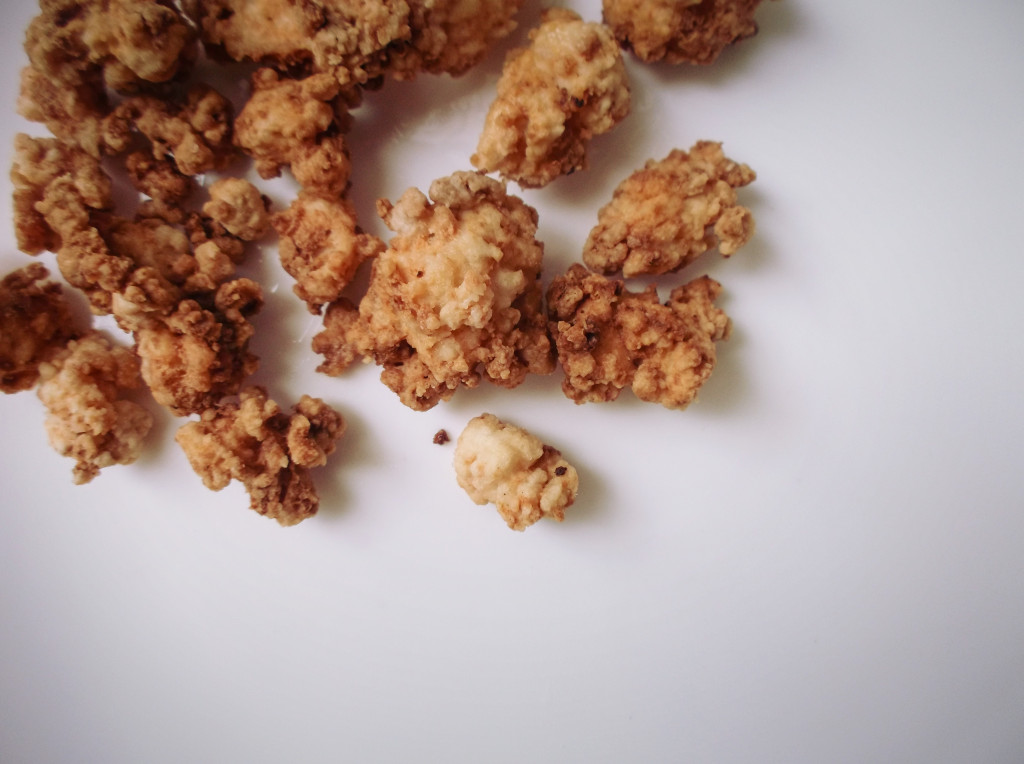 Tofu popcorn is so good with homemade bbq sauce and nobody really notices that it's not chicken. It's crispy, it tastes like the chicken popcorn that comes frozen in a box, and you can feed a whole group of people from just one block of firm tofu. Win-win.
Ingredients
1 egg + 4 tablespoons water
salt (depends on your sodium tolerance)
3 cloves finely chopped garlic (or garlic powder)
1 firm block of tofu
breading of choice (I use half a cup of APF + cornstarch, a few dashes of paprika, salt, garlic powder, and five spice powder)
Instructions
1. In a medium bowl, mix the first three ingredients.
2. Crumble your firm tofu into small-ish pieces (wow that's so eloquent, haha!).
3. Add the tofu into the medium bowl and let the tofu absorb the egg and garlic for a few minutes (up to a day in advance, just make sure it stays inside the fridge).
4. Toss in your breading/flour mixture.
5. Fry in medium high heat. Enjoy with barbecue sauce!
Remember to break it up before frying!