Unlike The Favourite Dining Companion, I like Matcha. I love matcha's vegetal characteristics, sometimes grassy, other times almost resembling kelp or seaweed but without the salt. (In hindsight, I think the almost-seaweed-tasting matcha I had was probably of bad quality.)
As for Dulce De Leche, I love how easy it is to make with a pressure cooker (a Christmas present — thanks, Mother Dearest!). All you have to do is to peel off the labels of a can or two of condensed milk, submerge in water (make sure there is at least an inch of water to cover the can), seal the pressure cooker. Boil on high heat until you hear a wheezing noise then lower the heat. Cook for a further 20 minutes and then switch off the stove.
At this point, if you value your life, DON'T open the pressure cooker. (I almost did this once because I was listening to a song that I PARTICULARLY liked.) Let the pressure subside and for the water (and the cans) to cool down overnight.
What better way to start the morning than with cans of dulce de leche? Spread on toast, use as cake filling, use in place of sugar in baked goods, or use as the base for homemade ice-cream. I don't know how long these will keep but I'm sure the cans of unopened dulce de leche will keep indefinitely. The perfect dessert to keep on hand in the case of a zombie apocalypse.
Before I start writing sonnets about Dulce De Leche, let's keep the record straight: I appreciate ice-cream but never had a craving for it. So buying an ice-cream maker is out of the question. And since buying ice-cream from the grocery store is something I very rarely do, now and again I try to make no-churn ice cream.
The first and second time I tried to make ice-cream, I ended up with bits and shards of frozen water as an interlude to each creamy bite. Not the kind of ice cream anyone would sing praises about. This time around, I did a bit of digging around and apparently, it's an open secret that no-churn ice cream's best friend is condensed milk.
Because it's creamy and sweet and has a lower water content than plain evaporated milk, there's less chances of ending up with ice cream that has annoying bits of ice water.
Homemade ice cream's enemy is water so don't reach for that can of evaporated milk. Get thy cream. Do 10 jumping jacks if it makes you feel guilty. And if you want an ice cream that has the same consistency as Ye Olde Store-Bought Tins of Ice Cream, then add in blended bananas or avocados. Don't go for mangoes.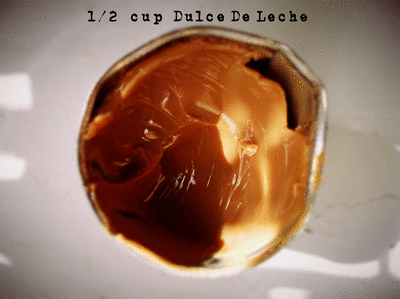 Without further ado:
Ingredients
1/2 cup Dulce De Leche (or condensed milk)
3/4 cup cream
1 teaspoon pure vanilla extract
1 teaspoon starch (I used cassava starch — optional. You can leave this out.)
2 tablespoons coconut oil
Mashed avocado/banana so the consistency isn't too thick (optional)
For a Matcha-Leche twist, add a heaping teaspoon or two of matcha powder. (I personally liked the matcha version better!)
Directions
Combine all the ingredients. Whisk until everything's mixed together. Chill in the freezer for a minimum of 4 hours. Thaw for a bit then serve!
Notes:
1. When you opt for condensed milk, add lots of good quality vanilla beans and whatnot so your ice cream wouldn't taste of um, frozen condensed milk. Add a few drops of peppermint, lemon, or almond extract along with the vanilla.
If you can't purchase already-made dulce de leche, hit me up on FB and I'll help you score a few tins!
2. If adding bits of chocolate, make sure you temper the chocolate first otherwise you'll end up with cracked teeth — learned that the hard way! (OR you can simply toss in bits of chocolate/chocolate chips before serving.)
3. Oh and double or triple the recipe if you like. This amount was enough for us. :3