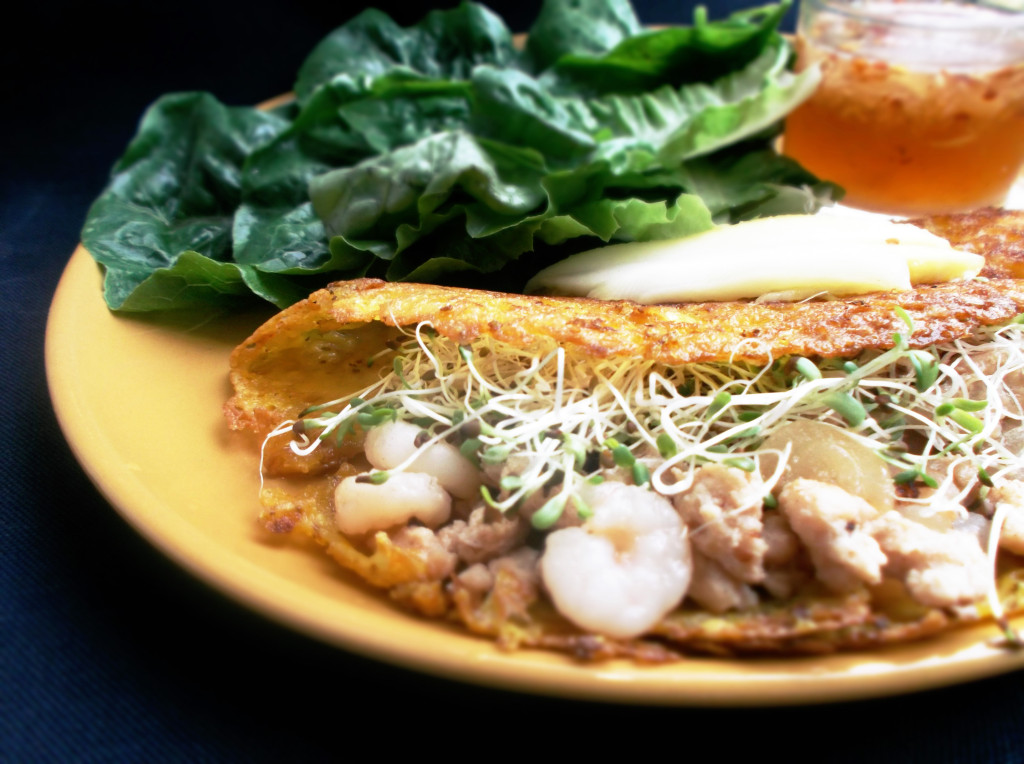 The first time I had Banh Xeo was a revelation. Here you have a crepe that's almost junk food-like in its crispiness but balanced by fresh greens and a sweet n' salty dipping sauce. Highly addicting stuff. Back when I was still a full-time college student in UPLB, it was hard to part with allowance money. However, I would gladly forego breakfast and lunch if it meant that I could eat Banh Xeo at Phuong's.
Ordering and eating Banh Xeo was almost a religious experience that demanded your full attention. I remember being perplexed at the omelette(?!) served by the Vietnamese lady who owned Phuong's.  After a bite, I knew it wasn't an omelette. It simply looked like one. Taking a cue from my obvious confusion, she told me how to eat the Banh Xeo: cut a piece of crepe, add a basil leaf on top and tuck it into a mustard leaf before dipping the whole thing into the nuoc mam sauce.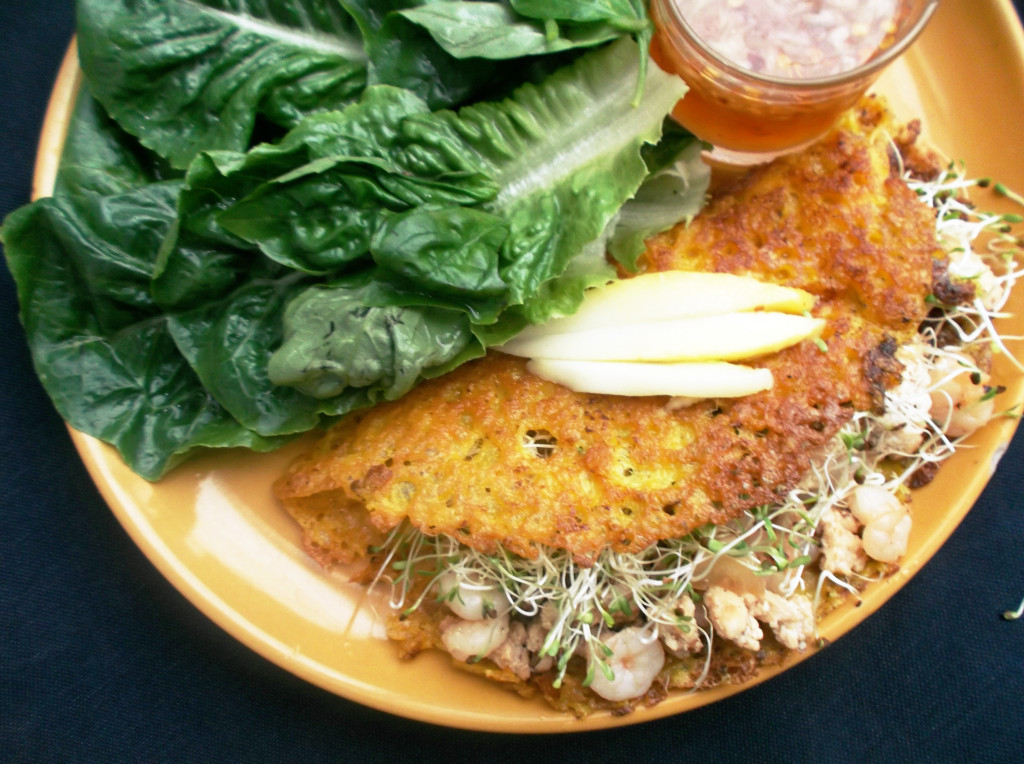 The ritual of having to cut into the crepe and folding it into the mustard leaf is very satisfying. It demanded the use of both hands and it was hard to scarf the whole plateful in 5 minutes. Even harder to have a cellphone in hand while eating with the other hand. Add to that the fact that the Vietnamese carinderia didn't have wifi was also a welcome change. Either you go for a leisurely walk while waiting for the food to arrive or actually talk to whoever you're supposed to be eating with.
Nowadays, I still go out and order Banh Xeo at Phuong's. However, it's actually quite easy to cook at home and it makes for a great "Goodbye Weekend, Hello Monday" meal during Sundays. A celebratory meal to cap off a weekend spent doing chores, haha. Oh and yes, having someone else to do clean up duty helps.
This recipe is slightly adapted from my Booksale-bought copy of ABC delicious. WORLD MENUS:
Ingredients
3/4 cup rice flour
1/4 cup APF/All Purpose Flour
1 teaspoon turmeric powder
1 cup water
1/2 cup Coconut Milk (Any milk can be substituted)
Pinch of salt or a few drops of fish sauce
spring onion, thinly sliced (optional)
onion
1 cup mince meat (Pork or Chicken is fine. You can also substitute with oyster mushrooms.)
1 cup peeled shrimp (honestly, I just eyeball this. 😀 You can use as much as you like)
1 tablespoon soy sauce
2 tablespoons fish sauce
2 tablespoons sugar
2 to 3 cups of bean sprouts (or alfalfa sprouts)
2 crushed garlic cloves
4 pieces of calamansi
1/4 cup fish sauce
1/4 cup white sugar
3 tablespoons water
1/2 carrot finely shredded or julienned
chili flakes or finely chopped chili
mustard leaves or romaine
basil or mint leaves
Directions
1. The batter needs to rest for 30 minutes so do this ahead of time. Combine the flours, turmeric, water, coconut milk, salt, and spring onions. Whisk together and let it rest in the fridge for 30 minutes.
2. While the batter is resting, make the filling and sauce. For the filling, saute the onion, meat, and shrimp. Add the soy sauce, fish sauce, and sugar. If you're not iffy about raw bean sprouts, leave that out. However, if you are and are not sure about the water used to sprout the mung bean or alfalfa, then toss in the sprouts and mix with the cooked filling. Set aside.
3. For the nuoc mam dipping sauce: combine the garlic, calamansi, fish sauce, sugar, water, carrots and chili. Adjust to taste. I like to chill the sauce inside the fridge for that hot-cold contrast.
4. As for the crepe, brush some oil on a non-stick pan. Add 2 to 3 tablespoons batter and swirl to coat the pan. Cook for about 4 minutes on medium heat for crispy crepes.
5. Sprinkle 2 to 3 tablespoons of filling onto the cooked crepe. Fold. Make more crepes. This recipe will make about 5 crepes. Serve with mustard and basil leaves.
Notes:
Use a non-stick pan.
For crispier pancakes, don't flip immediately. On medium high heat, cook the crepes for about 4 minutes on one side.
The crispy crepe is easier to make when you have crepe making experience. I suggest you have crepes for breakfast before attempting to make crispy crepes. 😉