Lagkitan Squash is currently cheap/in season and you can buy a quarter of the fruit for about 20 PHP. If am not mistaken, lagkitan squash or kalabasa is the one that smells like melon. So yes, I'm the person sniffing squash at the palengke/grocery. During summer, I'm also the crazy person who sniffs mangoes to determine which ones will make the cut. 😀
This variety is also a tad bit sweeter and easily cooked into a mushy pulp unlike the other varieties of squash that take ages to soften. If I am actually mistaken and have misidentified this variety, do let me know!
The rest of the ingredients can be easily found and if you boil & mash your squash ahead of time, this recipe will come together in about 15 minutes.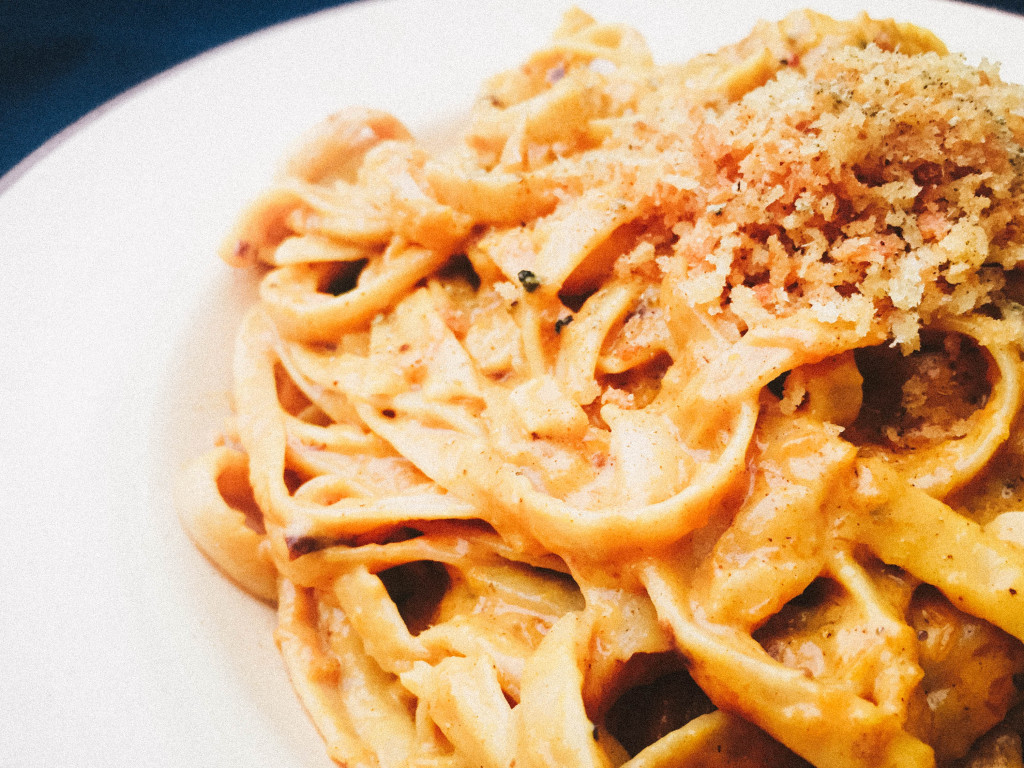 The formula for this recipe is quite simple:
toasted breadcrumbs + mashed squash + flavoring + milk + fat + cheese
So if you want to substitute fresh rosemary instead of dried sage or cream cheese or ye olde Eden instead of cheese slices, feel free to do so. Oh and I also used dried garlic and onions because I may have ran out of clean knives. May.
Feel free to use actual garlic and onions if you're not feeling as lazy as I am right now!


Without further ado:
Ingredients

1/2 cup japanese bread crumbs
3 tablespoons oil (I used olive oil)
pinch of salt
pinch of pepper
300 grams fettuccine (which is about a third of the 1000 grams packet. Right??? Or no?)  cooked according to packet instructions
200 grams kalabasa + 2 cups water
OR  1 & 1/2 cup cooked and mashed kalabasa
1/2 teaspoon of liquid smoke (optional) *
3 tablespoons fat (I used 2 tablespoons butter + 1 tablespoon oil)
1/2 teaspoon garlic powder
1 teaspoon dried onion granules
1/2 teaspoon dried sage
1/2 teaspoon black pepper, freshly ground
1/2 teaspoon dried red bell pepper flakes
dash of ginger
dash of nutmeg
1/2 cup whole milk
4 cheese slices
splash of white wine (optional)
salt to taste
Directions
1. Cook pasta according to packet's instructions.
2. Boil chopped kalabasa in 2 cups water. This will take about 10-15 minutes. I mash the squash while it's still in the pan. Make sure to mash the living daylights out of the squash. Set aside. If water separates from the mashed kalabasa, remove the water so you'll have an extra creamy sauce.
3. For the topping aka poor man's parmesan:  add the oil, toss in the breadcrumbs, add salt & pepper. You can also toss in parsley or other herbs if you want.
4. For the faux-alfredo sauce: In a clean pan, add the oil & butter, garlic, onion, sage, red bell pepper flakes, ginger and nutmeg.
5. Add the finely mashed squash. Mix to completely combine. Let simmer for about a minute.
6. Add in a splash of white wine if you want. Add the 4 cheese slices (or whatever cheese you have in hand). Season with more salt or spices, according to taste. Toss in pasta and coat with sauce. Sprinkle breadcrumbs on top. Serve immediately.
Notes:
*I was supposed to roast the squash first but yeah, ain't got no time for that! 😀 I don't think it's absolutely essential to the dish and this can be easily substituted with more freshly cracked black pepper.
**I also contemplated adding in shrimp or chicken but both needed to be thawed first. I'm sure this would be great with any protein of choice. Tofu, shrimp, or chicken would probably be nice. A sprinkling of cashew nuts, perhaps.
***This is basically a lightened-up version of your good old Alfredo sauce. It's still as creamy and still as filling, so definitely a good dupe. This recipe was inspired by How Sweet It Is!